This is a prime example of good viral marketing. The crew at GNUF.com has always been innovative and this recent promotion was no exception. From their website with custom fonts to the cool images displayed throughout their brand; these guys know how to make their stuff attractive.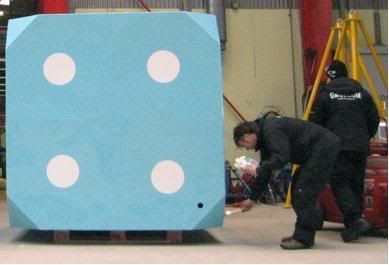 GNUF recently dropped some pretty massive blue and white dice down Mount Lille Nuuk, Greenland from a helicopter and filmed them rolling down all the way down from 340 meters above sea level. This sort of thing reminds me of the old Golden Palace stunts only much more classy and relevant. This sort of thing is good for getting your brand out there to places that wouldn't normally be interested in talking about a gambling company. It also gives us as affiliates fresh news and a story to cover.
I remember when I was at CelebPoker we did a promotion backstage at the 2005 American Music Awards show. It was pretty killer for me to meet some A list celebrities; but besides that we really captured some media attention from places we would have never had access to before. Hopefully GNUF can do what they set out to accomplish and build their brand awareness from this stunt.
Gauging the success from doing these sort of promotions can be difficult. Sometimes you just have to write this up as 'branding'; of which there really is no metric of success. I personally like seeing casino's and poker rooms engaging the general public into things like this. Luckily for GNUF the best possible outcome hit as well. Snake Eyes! If you haven't seen the clip yet here it is – The GNUF dice roll.
 For more help with marketing Subscribe Here