I am just now recovering from what was a pretty wicked first night from Las Vegas. Yesterday, November 8th, kicked off the first annual 'Blog World Expo' and featured a pretty well qualified panel of speakers and attendants. Safe to say that yours truly was the online one associated with online gaming there and plenty of people asked me, 'isn't that illegal' of course. By the time I was headed to the session on 'building an online community' I was ready to speak myself on the topic of UIGEA and all the other basic questions people have surrounding it. Misconception Number One: People think that running an affiliate website is that promotes online gambling is legal, but they feel like you cant cash the commission checks at any US bank? Cool, forward them to me…
After wrapping up day one of the show around five I headed over to the Renaissance Hotel with notorious blogger and web entrepreneur Shoemoney for what he called 'the best calamari you could get in Vegas.' So far that statement holds true because that was so kick ass breaded fish. We were tearing it up for sure. After that and 2 overpriced Jack Daniels it was time to roll to meet up with the crew at Unique Blog Designs. These dudes are class acts and we have a great time with them at dinner and later on throughout the night. I am going to hook up with them for sure in the future when it comes time for some more design work to be done. They did Shoemoney and John Chow's site as well. We picked up John later on in the night on our way out but he had to leave early due to the massive amount of smoke we were producing. It's Vegas right?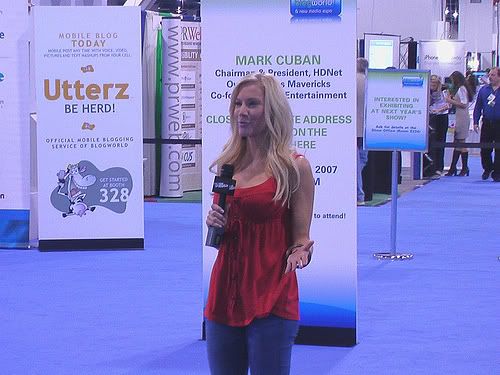 All in all the show was a good time to meet up with some of the industries best minds and catch on to some pretty innovative Web 2.0 and social media tools. I'll recap more this weekend on whats new and what I found to be interesting.
Side note: Crazy Egg himself Niel Patel was sitting next to me at dinner and told me that he traded a TV to a client for a payment and a gourmet cake. Immediately Shoemoney tells us both that he also recieved a cake from her? Does this seem weird to anyone else? Why dont I ever recieve tasty cake in the mail from my clients