Do you accept players from just the United Kingdom? How about just players from Sweden who use Neteller and make deposits on Thursdays? Most likely you don't. If you are doing this and you are successful I would start your own blog and become the next John Chow. However I think John is safe here as this is a really bad idea and serves this post as an example only.
A lot of time on this site I preach a few things over and over. One is you need a good design template and a CMS (content management system) to organize your copy. Another is that you need to focus on a niche and attack those keywords and phrases like a Spartan soldier. Lastly you need to make sure your site has a call-to-action and not just a bunch of banners here and there that never get navigated correctly. Ever wonder what people are clicking on? Check out my buddy Neil Patel's web app at Crazy Egg, well worth the time and money!
Getting more traffic to your site is great, getting targeted traffic is better. If you're into collecting Google Adsense money than spam away and grab as many hits as possible. If you're looking to acquire depositing poker players then I would suggest a different strategy. However, the point of this post is too encourage you to think outside the Google box and explore different methods of traffic. (Not Adbrights)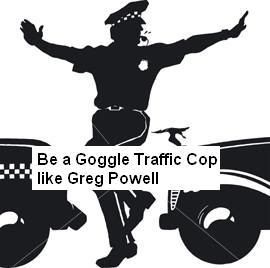 Social bookmark sites are awesome, and if you can get into Digg.com for a while you'll see a nice spike in traffic. However, be a real person and add a Facebook (Greg Powell) or MySpace link to your page and encourage your members to come and talk to you.
How to talk with people without meeting:
Facebook 2007 -> vBulletin Forums 2005 -> Telegraph 1846
Some of the standards also remain both true and overlooked. One simple thing you can do is write an article and share it with other sites as unique content in exchange for a backlink. This won't give you a massive amount of visitors but it will bring more than ranking for "my favorite poker cards" or the like. Press releases are also great and allow you to place highly distributed anchor text links on multiple sites. Blogging is of course great for return traffic and non-spam like sales text. If you don't have a blog directly attached to your site then I would suggest doing it now. Stop reading this post and go start one.
Now for some killer stuff… Google has an awesome personalized search engine that you can add to your site that displayed results from within your own websites! This is so under-used it's not even funny. Check it out now! Google Custom Search tool.
For more help with marketing Subscribe Here