I needed to take a break from business today on the blog to let you know that when you travel it's important to bring a carry on garment bag with a pair of jeans and a shirt. Honestly, even if your bag does show up it's nice to have this to hang up clothes and have a place for things you buy when traveling.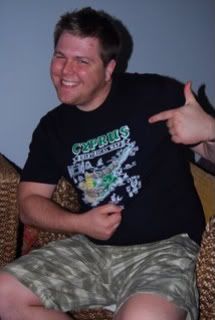 Recently your boys here at PAP traveled to Cyprus for Poker Conference and of course lost our luggage for 3 days. Blame it on a long flight or the Jack Daniels session we had on the plane before landing but the dates were confused and we thought the conference started a day earlier (than it actually did). In an attempt to look decent that night at the Welcoming Party we took off on foot to the only shop open in Limmasol on a Sunday. As you can see in the pictures here our choices were limited to say the least. Jeremy was fortunate enough to find a Calvin Klein rip off that said 'Cyprus' and some other word we couldn't pronounce. I on the other hand bought the only XL they had and am still pretty sure they sold me a Women's top. Along with our fancy new shirts we bought some overpriced (and outdated) shorts to finish off the tourist look. The next day we took a cab into the heart of the city to buy some cool jeans and questionably-heterosexual shirts for the rest of the wait. Luckily our luggage came the morning of the conference and all was well. Lesson learned.
Now you can join with everyone else in making gun of our travel wear. Next time I can assure you that I'll be bringing at least one change of clothes with me.