When it comes to promoting online poker, as with any internet business, most people never think past their computer screens. I remember when I first started as an affiliate I didn't even have a website. I was totally focused on applying the basic marketing principles I had. (Limited as they were) When I received my first real money player I became very interested in the business and started trying to piece a site together. I had a copy of Dreamweaver and some banners and started writing about poker rooms in my area. Along with these reviews (of land based casinos) I splashed 468×60 banners here and there and waiting for the checks to roll in. Needless to say I waited a long time and couldn't figure out why people weren't coming to my site. I knew nothing about SEO and looking back in retrospect I can see now that the things I was writing about had nothing to do with what potential players were searching for. Not until I started integrating my offline marketing with my new website did any real traction occur. With the new gambling laws in place the market is more difficult than before to get people to agree with advertising. However I am not ruling out offline marketing all together when it comes to promoting online poker.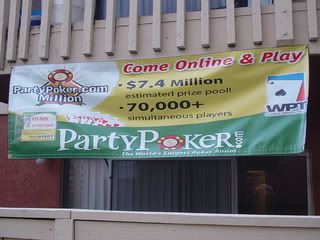 Official Conversation thread: http://www.pokeraffiliateprograms.com/bb/showthread.php?p=872#post872
Now, this is just a post to stir up the conversations. Take the ideas here and see what you feel comfortable with and then start attacking the market. Possibly the right idea for you is wearing a shirt with your URL on it. Possibly you might feel cool with carrying a flag with your bonus code on it through the lobby at the Bellagio. Whatever the case, start seeing what crazy ideas you have to promote your sites and affiliate trackers.
Like I said earlier, besides the basics online I would encourage you to keep an eye out for possible marketing mediums close to you. Sending people to specific landing pages is also a nice idea if you are going to co-op with a land based promotion. Let's say there is a public fair and you are going to attend. Partner up with someone who has a booth, those selling beer are nice, and see what it'll take to get your URL printed on the napkins they are passing out. Offer to purchase the napkins, cups or whatever they need if you can have your site on them. Set up a landing page and offer a 'special incentive' for players that come from that promotion. This will accomplish two important goals. One is that the people coming to the site will think the offer (bonus) is exclusive to them. Before doing the promotion see if the poker room will actually give you a sweet deal for these people since you are going the extra mile. Goal two is equally as important; this landing page/tracking link/bonus code will allow you to track the success of the campaign and evaluate what the ROI was.
There are a million ideas out there. Try, track and see where your new advertising medium is hiding!