I remember when I was headed to CAC Las Vegas back in the day and all the rage was making your website bookmark friendly and adding media to make visitors stay longer. Someone figured out that the longer a visitor is on your site the more likely they are to buy something. Since poker affiliates weren't really 'selling' anything tangible the idea just got sort of misconstrued and affiliates went back to adding banners and copy/paste reviews like before. However others were able to implement this marketing idea and keep their 'Time on Site for all visitors' (Google Analytics) at a nice rate. The trouble was that visitors were too often just watching video's trying to navigate the mess (downloading plug-ins) and ultimately missing the call to action intended. Remember that having a strong 'Call to Action' is vital to your site making money. If you are looking to gather email addresses, poll users or send players to a poker room via your affiliate tracking link remember to place your CTA in the most prominent spot on your site.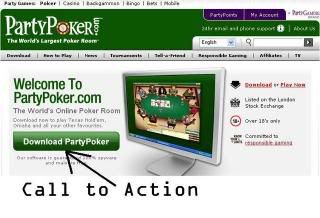 With all the cool new media out there like Video, Podcasts and Social Bookmarking it's easy to get caught up in the fad. A few years ago I was amazed when the KickAssPoker.com boys from Atlanta had a sliding photo section at the top left corner of their homepage. This feature was amazing; I mean it even linked to different news stories and poker rooms! Times unfortunately caught up with them and everyone was posting final hand showdowns on YouTube that could be added to a site. Regardless, what they realized before everyone else what that a Call to Action needed to be catchy, easy to understand and clearly point out what the webmaster intended the user to do. In this case KAP was looking to direct their visitors straight to the where the new promotions were occurring and not leave their visitors wandering around the site watching videos and leaving.
When you are designing your poker portal try and leave the optimal spots open for what you feel is truly the best promotion you can find. If you have a site that focuses on finding fish players than look for a room that you feel is on the weakest network with the best deposit options. Adding new media is great, but don't let it take away from what you set up your site to do, earn you money!
For more help with marketing Subscribe Here